10,000 posts. I think this moment is supposed to be oddly fulfilling. If this site wasn't such a pile of shit and infested with fags it might be. As it stands, hitting this milestone really puts things in perspective for me. I am a loser.
I had originally planned on doing an ode to gif's with my 10K (I like to call it 10K because it feels like more of an accomplishment that way so fuck off and EAFD) moment. Thanks for fucking me over there
@SpoonieLuv
. Next I thought I could make a post that would be legendary in an OBK/Sven sort of way, but then reminded myself that getting kicked out of this place would seriously fuck up my online street cred. And that shit is important. I'm sort of a big deal.
So, I have instead settled on a rambling and mostly incoherent post about shit I have done over the summer that you idiot baboons might find amusing. Or not. NOGAF either way. My intention is for this post to make
@Tequilla
blush, so if you don't want to be here ten minutes stop reading now you dumb donkey.
Last summer I was trying something. Sort of like a test. I wanted to see if I actually put in effort could I get laid every night, by a different slut, from a Wednesday through a Saturday night. I also was secretly hoping to get AIDS. I called it Operation Hurricane. I would blow in destroying everything in sight, and then fizzle out and die. I'm clever.
I had recently read an article (okay
@dnc
actually read it and then sent me a version done in stick figures and finger paint so I could understand) about the best pick up bars for desperate singles in the DC area. Desperate really resonated with me. So I says to myself "Self, you can pull the Grand Slam (which is funny because I picked four nights to test myself…sort of like bases…did I mention I'm clever?) here because some idiot writer just gave you a map to the treasure." Treasure means hammered roast beef for those of you slow on the uptake (
@2001400ex)
.
Actual
@dnc
picture:
Operation Hurricane:
Wednesday night: Showtime Lounge. Kind of a seedy shithole in a decent neighborhood. 5 dollar Natty Boh and shot special gets me properly lubed. Too lubed. Fall off bar stool several times while some hipster band does shitty rendition of Bank Robber by The Clash. This pisses me off. I throw beer coasters at the band until I get kicked out of bar. When forcibly removed from bar the aforementioned shit band was doing an awful Sweet Dreams by The Eurythmics – that's really saying something. Stumble around DC and end up in all night diner eating tacos at 3AM. Operation Hurricane more of a stiff breeze at this point.
Thursday night: Jimmy Valentines Lonely Heart Club. Free condoms at the bar. A drink called Mr. Lethal. Feel like you are in Prague during the Cold War. What's not to love? Meet a cute brunette mid-20s girl out back on the stair well midway through the night. Staffer on Capitol Hill she says. There with a sort of bleached blond friend from college who is in town for a visit. I don't give a fuck but act mildly interested. Kind of worried about cock block potential of former college friend. Works for some Democrat Congressman from some fuckhole district in Connecticut. Friend disappears midway through night. Signs point to both of them being sluts. End of night asks me if I want to go hang out some more. End up in her car. Fittingly, it's a Prius. Tells me she doesn't screw the night she meets anyone. Proceeds to blow me in the passenger seat. I leave knuckle babies in the front floorboard and on her hand. Exit car. Never see her again. Victory over the Democrats and shitty enviro-friendly cars in one engagement. Swaye upgraded to tropical storm.
Friday night: Red Derby. Kind of a dive bar meets douchebag paradise. Lots of idiots in suits at 10PM, and me in a vintage Indian Motorcycles T-shirt with grease on my jeans. Odd vibe though because they only serve beer in cans, and it's cash only. Not a typical suit and tie place for sure. Remember
@dnc
and his pictures did say "desperate" women. Decide to wait it out and see what happens. Run tab. No action at all for me a couple hours in, even though there are plenty of women. Must be a racist place. Close tab, and attempt to pay tab with the roll of quarters I strategically placed in jeans at the start of the night for maximum Mandingo effect. Bartender not amused when I rip open quarter roll and they all fall out rolling all over the bar, floor, and him. Asked to leave and not come back. Fuck white people. Storm surge has stalled.
Saturday night: Madam's Organ. Must show picture of this place to start.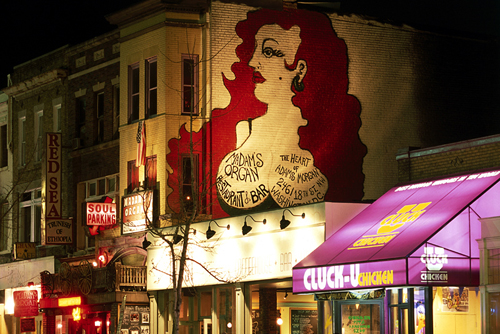 You pretty much know it is going to be a good time when they have 8 foot diameter tits painted on their outside wall. Have a good meal downstairs, then head up to the second floor, appropriately named "The Pick Up Bar." Girls who come here have a purpose, and it isn't needlepoint. Live music blaring, four floors of awesome. I give this place two boners up. See a chick with green hair and tats all over her arms. She is ready to rock like you read about. Two hours of idle chatter nonsense with her giggling hysterically at all the stupid shit I say and we are back at her place. Roll in, and she has a dog. A fucking Husky. This shit was meant to be. Lock dog out of room, bomb some lines together, assault uterus for a couple hours, pass out exhausted. Success! She let the dog into the room sometime in the night and I wake up to him in between us looking at me like "What the fuck asshole?" She makes me a killer breakfast and I am on my way out of the city. Swaye is a Category 5 Super Storm.
Operation complete. 4 nights. Kicked out of two bars. Gallons of booze. Gram of blow. Enough tacos to choke a small elephant. One Greenpeace blowjob and a Husky themed vulva smashing. It was a great week to be an American. Choo choo motherfuckers. Here's to three more years of debauchery at Hardcore Husky!
And if you don't like a Metallica and The Shining smashup you should seriously kill yourself now fag.