I'm back you surly bunch of queers. Hope I didn't miss much while I was gone. So, decided a couple months ago to roll a whole bunch of bucket list items into one mega two-week vacation across America. There were four or five destinations and dates locked in, but everything else was just make it up as you go on the road. Really wanted to see as much of America as I could, because I enjoy seeing how much white people have fucked everything up over the last 500 years. You fucking idiots. Anyway, I have been buying blow in small quantities for months to really make this a trip to barely remember. So here's the story. I'm like a really shitty bard for you ingrates. A bard is a poet of the oral (lulz) tradition for you dimwits that didn't know that.
6-19 Day 1. Northern Virginia to Milwaukee. Got up at the retarded hour of 4AM to leave. Twelve-hour drive but got there in time for the Pabst Blue Ribbon Brewery Tour at 4:30 in the afternoon. Kicked ass. Bought a t-shirt like a loser tourist fag. I slept it in last night. Cool story, I know. Hit up Bryant's Cocktail Lounge that night, off a recommendation from a guy at the brewery. Great little place. Straight up early 70's cocktail lounge vibe. Think Regal Beagle. No hot chicks, just Jack Trippers, so I abandoned my quest for vagina early and hit a hotel and jerked off instead. I thought of
@dnc
, for those interested.
6-20 Up early for breakfast and to make it to the Harley Davidson Museum at 9 AM, stayed until noon. Great museum. Exactly what you'd expect. Lots of fucking motorcycles. I assume there were some really cool history exhibits but I can't read, so who knows. Drove straight from there to Sturgis, SD and got in at midnight. Too wiped out to party so drank a few beers I had in my trusty K2 cooler in the back of the Jeep and passed out.
6-21 Hit the Motorcycle museum in Sturgis at 10AM and stayed until about noon. Been there before but always a good stop. Less than a four-hour drive to Casper, WY from Sturgis and then hit Northern Dreams Gentlemens Club as soon as I rolled into town – and let me say, this place is not for gentlemen. It was in a trailer. A fucking trailer. I think one of the strippers was pregnant, or she had a large tumorous growth on her abdomen. Not sure. Gross.
Did hit on a somewhat cute waitress named Crystal. Mid to late 20's, kind of snaggled teeth but nice body, just had the first formation starting of a muffin top, but still had a nice thick ass and some good size D's. She was going off shift at 6 so I made sure to chat her up hard and mention the quarter pound of cocaine I had hidden in the Jeep. That perked her right up. Grabbed some Jack in the Box for the both of us, because I am classy, and checked into a shithole hotel. Threw a burger down her throat, let her do a couple lines, and then she tells me she isn't going to fuck the first night she meets me?!?!?!?! WTF bitch I splurged for a goddamn COMBO meal and some free snow. Anyway, she offered a blowie and I took it. Not bad, though the mangled teeth did scare me a bit. Punted her ass out promptly after giving her some Indian inspired hair gel and tried to go to bed but cocaine. Watched NCIS reruns until I could finally fall asleep after midnight. America Adventure momentum building.
6-22 Up at the crack of dawn, inhaled some more flake to wake up, and drove eleven-hours to Wallace, ID for the last day and a half of the Silver Valley Jeep Jamboree. Skipped the Jamboree when I got in too late for that days trail rides and got drunk at a hipster shithole called the City Limits Brewpub. Food sucked. Beer sucked. Some hot chicks, but mostly small-town Idaho frumpies. No love at all for the Injun from any of them. I could regale you with tales of me getting shot down, but instead I will chalk it all up to them being racists. I've got a new foolproof plan anyway.
#reddongsmatter
6-23 Went wheeling all day long at the Jeep jamboree. Great fun. Nothing broke on the Jeep, and I didn't roll it over and die in a fireball, so great success. If you have never done serious off roading you owe it to yourself to try. Adrenaline rush, hair on your balls check and beautiful country. Take your skirts off and do it fags. Plus there are occasionally some hot chicks.
6-24 Got up late and headed to my buddy's house just outside Coeur d'alene. He took me fly fishing on the North Fork of the CDA. Caught a few Westslope cutthroats. There are barely any people there, so even you white fucks haven't ruined it yet. After a great day on the river, we went to the Hogfish Bar. I was pretty much positive that luck was with me and tonight was the night I would finally get laid on this adventure. Roll into the bar and it appears some type of skin head convention is going on that night. Sort of like ladies night, but for low IQ retards who think Hitler is cool. I looked a little out of place, because I am red. Being wily, I did some quick thinking on how not to get shot and quietly retrieved my trusty MAGA cap from the Jeep. The skin heads barely even looked at me. It was like camouflage for Nazi's. Thanks Trump.
6-25 So, my same buddy who took me fly fishing also owns an Uzi and a Thompson sub gun. Shot full auto half the day. Sort of like rock crawling, if you have never shot full auto, and you don't have a vagina (Hondo), you must do it once in your life. Ended up making a huge bonfire and crushing some brisket my buddy's cousin cooked up all day. The smell of slow cooked brisket, cedar log fire and gun powder mixing together is truly one of life's little pleasures. One of the neighbors came over to the bonfire and brought his cute mid-20's daughter. Dong power, engage. I saunter up to her and drop the hammer. She looks through me and says she has a boyfriend, which I could tell was a lie. Idaho is the red man's kryptonite. Later in the night we were all sitting on logs around the fire and I was completely shitfaced. I threw up on the ground in front of me and some of it splattered on her shoe. Victory. Bitch.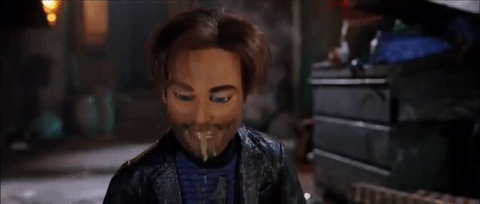 6-26 Drove all day to Moab, UT bumping rails off the center console like you read about. Strung the fuck out when I got there. Ate at The Cowboy Grill. Top flight view of the Colorado River from the restaurant. Slept like the dead.
6-27 Had a fucking killer Jeep day wheeling in Moab. Ran Kane Creek Canyon. All 20 miles of it. Nails. No damage except a couple small racing stripes. Bad ass. Dropped my iphone off a cliff fumblefucking around trying to take a picture. Not bad ass. Total loss. FML.
6-28 Got up early and headed to Vegas. Got a room at the Cosmopolitan. Threw on the dirty fucking jeans I wore into the river, some fag waffler boots and my trusty Misfits concert shirt. Cruise control for cool. Hit the floor and promptly dumped 300 bucks on the blackjack table. Fuck.
Spot a cute little hard body with her friends pounding drinks at the Sports Book bar. I figure if she's drunk my chances increase exponentially so I move in. Named Jessie. 25. From LA. Drove up with old friends from college to spend the weekend in Vegas. Dark hair, smallish tits but a total looker and an ass you could crack eggs on. Chat her up and pour back drinks for an hour or so and then invite her for a milkshake at Holsteins. After shakes we wander to a slot machine and I put in a 20, lose a few pulls and then hit a 400-dollar jackpot. American Adventure momentum is pegged. Ask her if she wants to go with me to get a tattoo. Cook this shit. It's on. Blow the entire 400 I just won on a tattoo at Vegas Ink. Take her back to the room around midnight and blow the back out of it. Sexy as fuck. Fuck off no pics. The phone is still in Utah somewhere. Slept with her the rest of the night, got breakfast with her in the morning, and then pulled chocks to head home.
What happens in Vegas ends up on HH.
6-29 Drove from Vegas to Santa Fe, NM. Dude I met in Moab said I had to try this place called Geronimo (not making this shit up). Wagyu beef carpaccio and a grilled rack of lamb. Add a few beers and I walked out of there down about 120 bucks. Was so amped up I headed to Cheeks titty bar in Santa Fe. Surprisingly good-looking chicks for a shithole. Bouncer kept leering at me. Pretty sure he either wanted to fuck me or kill me. I left.
6-30 Got up at 5AM and drove about 14 fucking god forsaken hours to Memphis, TN. FML. This drive almost killed me. 1000 miles on the button. Got in around 7PM, got a room, did some blow to wake up, and went out to Central Barbeque and had the best goddamn ribs I've ever had. Still not brisket, but goddamn. Went home and passed the fuck out. Woke up at 3 AM with fire shits. The ribs were still worth the pain. My butthole will never be the same again though. Sorry
@dnc
July 1st Got up at 7AM, and after 13 more hours of power driving, and the last of my flake, and I am back in Northern VA.